Stubborn Facts
Stubborn Facts is a campaign that seeks to engage academics, policymakers and the general public in an ongoing dialogue around key U.S.-Mexico policy issues. The project focuses on trade and migration because we believe that policy decisions affecting these two issues at the core of our relationship with Mexico must be evidence-based.
Follow us on Facebook and Twitter to share in real time. We've also made the images available on Flickr so that you can download by clicking on the image or hover over the image for direct sharing options. Use the hashtag #StubbornFacts and help us build a fact-based dialogue around the bilateral relationship!
---
Exports to Mexico by state
We have created a new online data visualization site to provide even more information on exports to Mexico by state. We will be adding new data each month.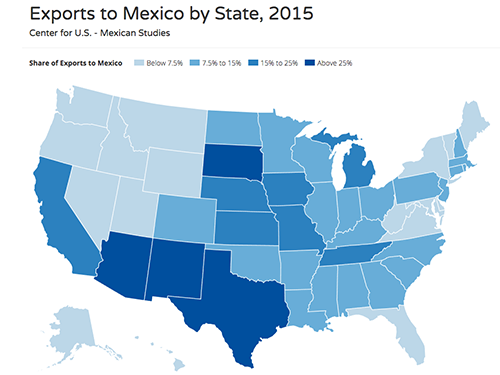 ---
Recommended Reading
We are sharing with you the top five items we are reading and discussing here at the center. We've provide a quick synopsis and link to the article or site so that you to can join in on the conversation.
Where are we now?: Early this month, news swirled about a draft letter from the U.S. Trade Representative to Congress laying out goals for renegotiating NAFTA. Politico's Michael Grunwald tries to read the tea leaves on the administration's intentions and suggests that NAFTA talks could easily turn into Trumpcare 2.0. Read here >>
NAFTA explained: This great series of podcasts by Marketplace explores NAFTA vis-à-vis cars, corn, baseball and margaritas, as well as what people get wrong when they talk about NAFTA. Read here >>
Barking up the wrong tree: In this discussion forum, eight renowned thinkers dissect the "worst myth" about globalization--the job losses that accompanied it were impossible to avoid. These thought pieces weigh the policy choices that directly shaped the effect of globalization on local economies and dictated the winners and losers from international trade. Read here >>
Made in North America: The Wilson Center's brilliant study outlines how Mexico and the U.S. combine their comparative advantages and supply chains to build things together. This piece goes behind the scenes of trade balances to explain how the two countries work together to increase the region's global competitiveness. Read here >>
Required reading: The Council on Foreign Relations wrote an excellent backgrounder on NAFTA's impact on the North American economy, tracing the arc of the agreement from initial negotiations in 1991 to the present. The balanced analysis highlights how critics have blamed the agreement for job losses and wage stagnation, while supporters have touted the benefits of integration in terms of regional competitiveness and productivity. Read here >>