Ana Alcazar Campos
Professor of social anthropology in the department of social work and social services, University of Granada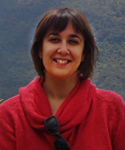 Profile

Residency: March – May 2015

Research Project: Social Work with Trafficked Women: Case Analysis in the Mexico-U.S. Border

Research Interests: ethnography, feminist methodology, gender inequalities, social work

Public Talk: "Social Work with Trafficked Women: Case Analysis in the Mexico-U.S. Border" on April 22, 2015
Biography
Ana Alcazar Campos has been an assistant professor at the department of social work and social services at Universidad de Granada since 2010, after receiving her Ph.D. in social and cultural anthropology.
Her recent research explores social work from feminist perspectives. She has carried out fieldwork in different countries, including Cuba and Spain, where she has analyzed the production of gender inequalities intersected with certain elements such as race or social class.
She is currently exploring the production of spatially and politically diverse discourses and practices with trafficked women, specifically Dominican women trafficked to Puerto Rico, and Mexican women trafficked to the United States. This research draws on comparative ethnographic case studies from both places.