Noe Aron Fuentes
Professor of economics, El Colegio de la Frontera Norte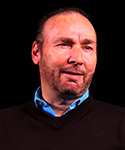 Profile

Nonresidential visiting fellow

Research Project: Binational Industry Clusters

Research Interests: input-output matrix and regional science
Biography
Noe Aron Fuentes is a professor of economics at El Colegio de la Frontera Norte. He holds a B.A. in economics from the Universidad Autónoma de Nuevo León, a master's in economics from Instituto Tecnológico Autónomo de México and a Ph.D. in economics from UC Irvine.
Fuentes has more than 22 years experience leading projects regarding applied economic investigation. In collaborating with other academic institutions, he's responsible for more than 30 investigation projects that deal with the impact of economic and social development in Baja California. Most recently, he has focused on the application of input-output models in the border region.
Fuentes is a member of the Sistema Nacional de Inversitgadores and president of the Mexican Association of Input-Output Matrix. In addition to entering more than 50 publications to specialized journals, Fuentes has been published in 10 books and more than 40 chapters.