Cheryl Álvarez Torres
Ph.D. candidate in social sciences, COLEF Tijuana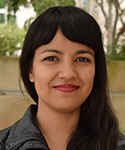 Profile

Residency: Summer 2015
Research Project: Democratization and Development in Latin America: Democratic Capacities of Young Women in Sub-national Governments
Research Interests: democratization, regional development, human development, youth and gender studies and citizenship

Cheryl's research focuses on democratization and development processes, particularly the building of democratic capacities for human development and political inclusion at the regional and local level in Latin American countries. Her study centers on the participation of young women in citizen participation initiatives and in collaborative public management mechanisms from a comparative perspective in Mexico and Brazil.

Previously, Cheryl worked at the Science and Technology State Board of the Ministry of Economic Development and as an adviser for the Ministry of Education. She currently is participating as an analyst for the Electoral Observatory for Gender Equality in Baja California, Mexico.

She has a master's in regional development from COLEF.