Daniel Abraham Adrian Osorio
Ph.D. candidate in social sciences, COLEF Tijuana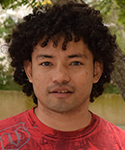 Profile

Residency: Summer 2015
Research Project: Evaluation of Economic Integration of Mexico in North America
Research Interests: economic integration, open macroeconomics, economic policy, trade liberalization and international finance

Daniel's research focuses on growth and economic integration, incorporating regional data and national analysis to calculate the impact of economic policies implemented by the Mexican government on macroeconomic variables.

Daniel has worked as an infrastructure valuator for the Ministry of Public Works for the government of Mexico's Yucatán Peninsula, as well as on valuation projects for the Board of Science and Technology for Yucatán. He also was a visiting researcher in the Mexican cities of Monterrey, Tijuana, Juarez and Mexico City.

A native to Merida, Yucatán, Daniel earned a degree in economics from the Universidad Autónoma de Yucatán and a master's in applied economics from COLEF.