Gabriela Pinillos Quintero
Ph.D. candidate in social sciences, COLEF Tijuana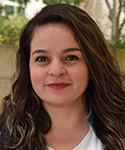 Profile

Residency: Summer 2015
Research Project: Asymmetrical Borders and Survival Strategies in Tijuana: Exclusion, Precariousness and Social Exclusion
Research Interests: border studies, regional development, poverty and social exclusion and homelessness

Gabriela's research relates to borders, human development, poverty, exclusion and marginalization both from a qualitative and quantitative approach.

Her professional experience comprises managing databases, calculating indicators and community work for projects with universities, government and civil society organizations in Colombia and Mexico. Specifically, Gabriela has worked as a teacher at Universidad Francisco de Paula Santander and the Fundación Universitaria los Libertadores, as well as the Universidad Autonóma de Baja California.

She completed her graduate studies in development and regional integration at the Universidad de los Andes and undergraduate studies in economics at the Universidad Industrial de Santander.