Helí Hassan Diaz Gonzalez
Ph.D. candidate in social sciences, COLEF Tijuana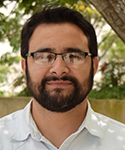 Profile

Residency: Summer 2015
Research Project: Knowledge, Capabilities and Regional Systems: The Case of Software Industry in the States of Guanajuato and Baja California, Mexico
Research interests: regional development, knowledge economy, regional intangible capitals, technological capabilities and software industry

Helí's research focuses on territorial learning processes and the creation of local capabilities. Specifically, he is examining the software industry in Guanajuato and Baja California, Mexico. He currently is a member of the Regional Studies Association and the Urban Research Web.

Helí also is an alumnus of COLEF. He earned a master's in regional development from the school and holds a bachelor's in territorial development from the Universidad Autónoma de Chihuahua.