Jaime Andres Vinasco Barco
Ph.D. candidate in social sciences, COLEF Tijuana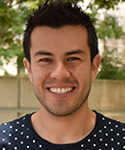 Profile

Residency:Summer 2015
Research Project: Effects in Mexico of the Regulation of Cannabis in the United States: the Experience of the Border San Diego, California—Tijuana, Baja California
Research Interests: culture and drugs, cannabis studies, cannabis legalization, health and drugs

Jaime Andres's research focuses on studying how the regulation of cannabis in California influences consumer practices of the Tijuana´s consumers that interact in California. Based on academic literature and through his research thus far, Jaime Andres suspects the inhabitants of Tijuana who have a constant interaction with U.S. society acquire certain patterns of drug consumption that are later replicated in Mexico.

He holds a master's of culture and drugs from the Universidad de Caldas and a degree in nursing from the Universidad de Antioquia.