Maciel Garcia Fuentes
Ph.D. candidate in social sciences, COLEF Tijuana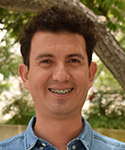 Profile

Residency: Summer 2015
Research Project: Cross-Border Regional Innovation System and Global Value Chains: Spinoffs in Baja California (1994-2014)
Research interests: regional innovation systems, global value chains, technological startup companies, institutions, learning and innovation

Maciel Garcia's research focuses on academic and corporate spinoffs, cross-border regional innovation systems and multinational companies located in the region of Baja California, Mexico. His study has shown that academic, research-based and corporate spinoffs are the product of organizational learning, innovation and the circularity of norms, standards and institutions in contexts of global value chains and cross-border regional innovation systems.

Maciel Garcia also is engaged in a research program funded by ECOS Nord, formed by researchers from Aix Marseille Université and COLEF. For 10 years, he has tutored and taught undergraduate and graduate courses on organizational economics, regional development and business management at Centro de Enseñanza Técnica y Superior.

He holds a master's in economics from the Universidad de Guadalajara.