Yesica Mayett-Moreno
Professor of business, Universidad Popular Autonoma del Estado de Puebla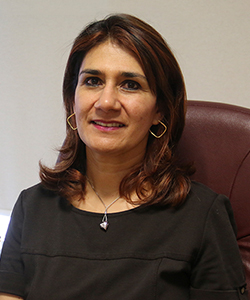 Profile

Residency: January – May 2018

Research Project: Importance of good agricultural practices (GAP) among small and medium producers and low income consumers of fresh vegetables

Research Interests: commodities' prices, market research, economic policies, sustainable development, competitiveness in agriculture, food safety, small producers, low income consumers´ behavior, agribusiness chain

Biography

Yesica Mayett-Moreno graduated with a degree in economics from Universidad Autonoma Metropolitana, an M.B.A. from Universidad de las Americas and a Ph.D. in sciences from the College of Postgraduates. She is a member of the National Research System Level I, and was recently a Fulbright Visiting Scholar in the University of Arkansas Department of Agricultural Economics and Agribusiness. Other outreach experiences include Oklahoma State University, Portland State University and EAN – Colombia as a visiting professor.

Mayett-Moreno research focuses on agricultural practices. In developing countries, access to safe food by their poorest citizens remains a great challenge. Mexico still has 55.3 million people in poverty who face food scarcity. Food security is as important as food safety; without it, food consumption has negative impacts on their health, personal incomes, expenses for health services and inability to work. Food safety standards are not required across all Mexican markets. Most fresh vegetables cultivated by small producers for domestic consumption are not grown using programs similar to GAP, because these practices often require new capabilities (managerial, technical, infrastructure), and unaffordable production costs. There is a need to find ways to adopt recognized food safety standards for both domestic and international markets. Regarding the demand, consumers close to the poverty line tend to purchase the least expensive food which is often of poorer quality and not certified. Food safety could provide great benefits ranging from improved incomes and health for producers and consumers.