Veronica Montes
Professor of Sociology, Bryn Mawr College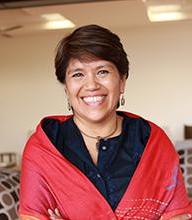 Profile

Residency: January 2023 – May 2023

Research Project: Reconfigured Motherhood Amid the Securitization of the U.S.-Mexico Border: The Case of DREAMers' Moms USA-Tijuana

Research Interests: transnational migration, gender, Latino immigrants in the U.S., qualitative methods, transnational feminism, maternal and feminist movements, globalization

Veronica Montes is associate professor in the Department of Sociology and co-director of the Latin American, Iberian, and Latina/o Studies minor at Bryn Mawr College. She was an Andrew W. Mellon Postdoctoral Teaching Fellow at the University of Southern California in the Department of Sociology and with the Center for the Study of Immigrant Integration. As a feminist ethnographer, her research falls in two areas: on immigration from Mexico and Central America to the U.S. and on the intersection between gender, belonging and migration. Currently, her research projects revolve around: the activist nature of transnational motherhood into the domains of migration, maternal activism and gender, specifically by looking at the family separation due to the U.S. deportation regime and the collective mobilization of deported mothers in Tijuana, Mexico; the precariousness of the social services provided to the Mexican migrant community in Philadelphia in the context of the COVID-19 pandemic; as well as examining the intersection between social inclusion, citizenship, culture production and Latino immigrants in South Philadelphia.

At the Center for U.S.-Mexican Studies, Montes' collaborative work focuses on examining the post-deportation experiences of a group of Latino mothers deported from the U.S. known as DREAMer Moms. Building on studies focusing on how mothers expand their roles due to migration, in this project Montes investigates these women's struggles to illuminate the intersection of migration, family separation, agency, and motherhood. Drawing on ethnographic fieldwork consisting of in-depth interviews conducted both in person and virtually, as well as participant observations conducted in Tijuana, Mexico, and in California, Montes and her coauthor will shed light on the following questions: How do the deported mothers think about themselves as mothers as their children live in the U.S.? How has their conceptualization of motherhood changed due to deportation? What role do DREAMer Moms play in their new identities as deported mothers?