Security
U.S.-Mexico Security Cooperation Taskforce
Following a very informative conference hosted by the center in February 2018, and in partnership with Justice in Mexico at the University of San Diego, we formed a U.S.-Mexico Security Cooperation Taskforce to help inform the course of U.S.-Mexico security cooperation in the coming years.
The purpose of the Taskforce is to help ensure that policymakers are informed and prepared to continue cooperation efforts in a difficult phase in the bilateral relationship, particularly amid emerging challenges related to epidemic levels of opium use, the rise of new organized crime groups and violent crimes targeting ordinary citizens in Mexico.
The Taskforce brings together a select group of respected experts and opinion-makers from both the U.S. and Mexico to offer concrete policy recommendations to elected officials in both countries.
Meet the Taskforce Members (PDF)
Opium and Heroin Production Crisis in Mexico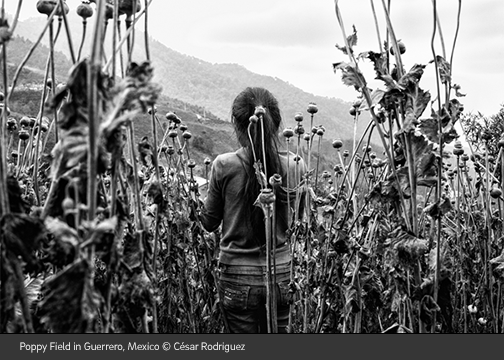 The NORIA-MUCD-USMEX-RIMISP project is based on Noria's first initiative on the Mexican Opium Crisis. Building on the findings of "No More Opium for the Masses", this project is an unprecedented effort to combine applied research, rural development programs and drug policy design in Mexico.
The project's main focus is Mexico's ongoing 'Opium Crisis': namely, the collapse of the Mexican opium and heroin production and market. This crisis has decreased farmers' profits, dried up village economies; and increased out-migration in some of the country's most marginalized and rural regions and communities, and is exacerbating conflict dynamics at local, regional and national levels.
Our initiative represents a turning point in the way the dynamics of social development, drug war dynamics and drug policies are addressed in Mexico. Notably, unlike other approaches that seek to explain phenomena through a top-bottom approach, our project aims to diagnose, analyze and offer clear policy paths through participatory research and policy advocacy while the opium crisis unfolds in different parts of the country. This project will allow us to design rural development and policy alternatives in direct collaboration with local communities and public authorities in Mexico.
Mapping Criminal Organizations
Empirical studies of organized crime and criminal violence have been limited by a dearth of high-quality data on key attributes of violent criminal organizations including their structure, where they operate, what activities they engage in and how they relate to one another. This project aims to fill this gap for Mexico and develop techniques that can be replicated in other countries.
We are combining methods and sources, from hand-coding data to scraping and processing archives to interviewing knowledgeable local actors. A public online platform will make updated data, procedures and analyses transparent and available to all. Users will be able to download panel datasets on the activities and locations of criminal groups and their factions, disaggregated by source; visualize the evolution of their structure and relationships with other criminal groups through time; and read analyses comparing and validating our data with existing sources and methods.
This project is supported by the Empirical Studies of Conflict Project and the Mamdouha S. Bobst Center for Peace and Justice at Princeton University.
Principal investigators and collaborators (alphabetical order):