Media Center
Featured Stories
April 16, 2019 | By Christine Clark, UC San Diego News
UC San Diego white paper recommends establishing a joint taskforce combatting fentanyl, developing binational criminal investigative operations and more
March 26, 2019 | By GPS Communications | GPS News
The Center for U.S.-Mexican Studies partners with leaders from higher education institutions and the private sector to build the STEM talent pipeline in Tijuana
July 13, 2018 | By Christine Clark, UC San Diego News
WTC San Diego and Center for U.S.-Mexican Studies report contextualizes binational trade and production in the age of NAFTA
April 11, 2018 | By Rachel Hommel | GPS News
Four USMEX Fellows detail how their fellowships are not only supporting multidisciplinary research projects but the vibrant community of scholars they've discovered at the center
Sept. 1, 2017 | By Anthony King, UC San Diego News
He joins the faculty at GPS and is the new director of its Center for U.S.-Mexican Studies
March 16, 2017 | By Anthony King, UC San Diego News
Fulbright-Garcia Robles scholar will join USMEX fellows program for 2017-2018 academic year
Feb. 23, 2017 | By Anthony King, UC San Diego News
UC San Diego Center for U.S.-Mexican Studies to host timely dialogue on the future of the North American partnership.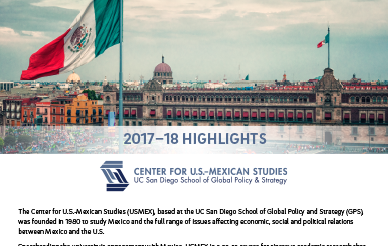 2017-18 Highlights Report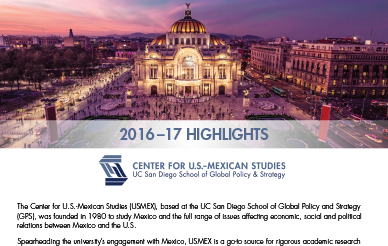 2016-17 Highlights Report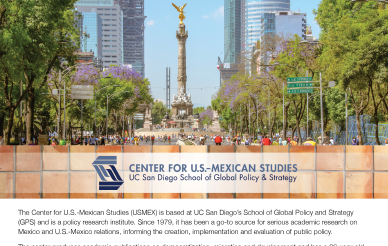 2015-16 Highlights Report
Archived Stories
Read past stories that represent a small portion of the work happening on campus and around the globe each day at USMEX.
Resources for Journalists
Whether you are looking for a faculty expert or scholar to interview, or help on a story, our communication specialists are available to assist you.