Organizers at UC San Diego's Center for U.S.-Mexican Studies (USMEX) are busy scheduling speakers for this year's Mexico Moving Forward, an event tradition bringing together business leaders, top scholars and policy makers to discuss issues and share information pertinent to Mexico and the global community.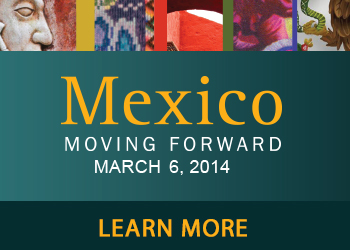 This year's symposium highlights one of the biggest changes in Mexico-United States-Canada relations in decades: the North Atlantic Free Trade Agreement, or NAFTA. The USMEX symposium "20 Years of NAFTA and Beyond" will take place Thursday, March 6 at the Sanford Consortium auditorium, with four breakout sessions covering the most important aspects of NAFTA.
Joining School of International Relations and Pacific Studies Dean Peter Cowhey for the welcome and opening remarks will be UC San Diego Chancellor Pradeep Khosla and University of California President Janet Napolitano. The symposium concludes with a closing celebration featuring a "best of" Baja California wine tasting.
Session I – Mexico Looking Back: NAFTA at 20
"This session will look at all the changes in the last two decades in Mexico that have been brought about in relationship to NAFTA," said Melissa Floca, USMEX associate director, who is key in organizing this year's panel discussions. Moderated by UC San Diego Political Science Professor Peter Smith, this first session features the policy makers who initially put NAFTA to work. The trade agreement officially began Jan. 1, 1994.
"Attendees will get the perspective of what changes NAFTA has brought about in Mexico from pre-NAFTA to implementation of the agreement, through the perspective of government and business leaders and academics," Floca said.
Confirmed speakers include Carlos Elizondo of Centro de Investigacion y Docencia Economicas (CIDE), Luis Ernesto Derbez of Universidad de las Americas, Juan Gallardo of Grupo Embotelladoras Unidas, and Jesus Vizcarra of SuKarne. Gallardo was one of the chief negotiators of the trade agreement, and will offer a strong business perspective on the panel.
Session II – Faces of Mexico: Arts and Culture
In an effort to discuss the face of Mexico – how the country and its people are perceived across the globe and how those faces have been affected by NAFTA – the second session focuses on the arts. University of California's Institute for Mexico and the United States Director Exequiel Ezcurra will serve as moderator.
"Mexican art and culture has hundreds of years of extremely rich history, and we want to see how these artists today are showing that face to the world. While contemporary, some panelists have connections to Mexico's longer cultural legacy as well," Floca said.
Currently, cinematographer Ignacio Duran and artist Demian Flores will participate in the panel discussion. Born in Oaxaca, Flores' work has been exhibited in Mexico City, Guatemala, Cuba and Europe. He will curate a collection of work at this year's symposium as well.
"This fits in with the broader theme of Mexico Moving Forward because of the essence of Mexico that is being transmitted to the rest of the world," Floca said. "Contemporary artists – the creators – have their pulse on what is going on with the people in the country, and their art is a representation of what is happening in Mexico today. This is another piece of the NAFTA puzzle."
Session III – Mexico on the Move: Reforms for the 21st Century
Moderated by David Shirk, director of University of San Diego's Justice in Mexico Project and former fellow at USMEX, the third session brings together policy makers at the helm of several important contemporary Mexico think tanks.
"This session is meant to connect the last 20 years of NAFTA to the future. The amazing lineup of panelists head the most influential organizations doing public-policy work in Mexico today," Floca said. "We want to talk about how President Enrique Pena Nieto's reform agenda is setting Mexico up to really take advantage of the opportunities it has, going forward."
Duncan Wood, director of the Mexico Institute at the Wilson Center, will be joined by Edna Jaime of Mexico Evalua, Juan Pardinas of IMCO and Clare Seelke of the Congressional Research Service. Seelke will be able to discuss another reform agenda separate from Nieto's: the current state of United States immigration reform.
Session IV – Mexico Looking Forward: Pacific Partnerships
Closing out the daylong symposium is a discussion about the future for trade in Mexico, adding to the initial tenants of NAFTA. Moderated by Center on Emerging and Pacific Economies Director Gordon Hanson, the fourth session looks beyond North America to nations in Asia, across the Pacific.
"Trade and economic relations between Mexico and the U.S. are very developed, and they will continue to develop, but an area for significant new growth and change is Asia," Floca said. "There are already some ties between Mexico and Asia, but they potentially can be strengthened much more, specifically with China and Japan."
Confirmed panelists include Luis Tellez, CEO of the Mexican Stock Exchange and Time Magazine "Leader for the New Millennium," and 21st Century China Program Chair Susan Shirk.
"A number of officials in Mexico have been active in negotiating the next round of trade agreements," Floca said. "We'll discuss these agreements, with an emphasis on the Pacific Region."
USMEX is a policy research institute based at UC San Diego's School of International Relations and Pacific Studies. Visit the Mexico Moving Forward 2014 webpage for complete and updated information on this year's March 6 conference, including registration information and complete speaker biographies.