USMEX: A global research & policy player
| By Anthony King, GPS News
Building on the groundwork of former director Dr. Alberto Diaz-Cayeros and his predecessors, two prominent members in the national discourse on United States-Mexico relations are working with Dean Peter Cowhey to focus, guide and grow the research portfolio at the Center for U.S.-Mexican Studies (USMEX).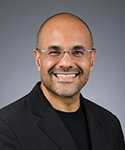 Dr. David Shirk, a current University of San Diego (USD) associate professor and former 10-year director of the Trans-Border Institute, is a visiting professor this year at the School of International Relations and Pacific Studies (IR/PS) and will lead the Center's new Three Californias Initiative. Joining Shirk is Denise Ducheny, a former California Senator and Assembly member with a strong background in cross-border policy making.  

The pair, along with the Center's Associate Director Melissa Floca and the IR/PS staff, is working to strengthen the Center's focus on our binational region.

"One of the things that IR/PS has always strived to do is to have excellent regional presence," Shirk said in a recent interview.

Shirk is no stranger to campus, having received his master's degree and PhD in political science at UC San Diego, followed by two stints as a USMEX Visiting Fellow. In fact, Shirk launched the Justice in Mexico Project here with the Center's founder Dr. Wayne Cornelius before relocating it to USD's Trans-Border Institute.

Shirk's past connection to IR/PS and the Center made the transition to campus an easy one. In his short time back at the Center, he has already launched a research project on bi-national industry clusters and is teaching a course in Latin American Politics at IR/PS.

"There is no place in the United States where you can get closer to both East Asia and Latin America than San Diego," he said. "It is the center of the universe, in terms of where the global North meets the global South and East meets West."

With a strong focus on policy-relevant research, the Center sits geographically and metaphorically at the nexus of promoting positive change, and can use its research to inform policy makers in Washington and Mexico City about issues affecting life along the U.S.-Mexico border. Keeping that regional focus is an important part of the vision at the Center for both Shirk and Ducheny.

"People have begun to realize more and more the importance of this region," Ducheny said. "The Center for U.S.-Mexican Studies at UC San Diego ought to be the center of that academic discussion."

Both Ducheny and Shirk have a history of promoting innovation in cross-border policymaking that could prove to be key in growing the Center's global reputation, starting with the new Three Californias Initiative. Shirk will lead the applied research arm, while Ducheny will focus on creating a forum for policy dialogue.

For the initiative – and equally for the Center – Shirk underscored three components or "fundamental purposes" of an academic research institution. The first is to generate information and analysis on real-world developments, focusing on policy-specific questions to help solve problems.

"That research should be the core of what drives USMEX," he said.

Second, the Center should be one that fosters and shapes public discourse through outreach, including events, interviews and guest speakers. He specifically mentioned the Center's Mexico Moving Forward symposium, scheduled for March 2014, as an example.

"The third thing that you do is to actually get directly engaged with and try to shape policy," he said. Testifying in Congress, consulting with governmental and non-governmental organizations, or organizing training programs are three examples.

"You're actually getting involved in the policy-making process and making your expertise relevant in real-world applications. It's the 'applied' part of applied research," he said.

Shirk is excited to be working with Dean Cowhey to continue to position the Center as a global research and policy player.

"For all of us who have been a part of the Center, it is a very special place," he said.